Rich Text Editor
The Rich Text Editor is a WYIWYG HTML editor. WYSIWYG stands for What-You-See-Is-What-You-Get. The Rich Text Editor in Cyber Publisher attempts to replicate the experience of using popular word processor programs such as Microsoft Word.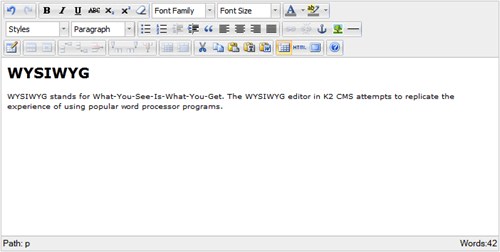 The top row of the Rich Text Editor window starts with undo/redo controls. Next up are controls for styling text such as bold, italic, underline etc. You can also set the font family, font color and font highlight.
The second row contains various controls for formatting blocks of text. It is here that you can set headings and paragraph styles, indents, font alignment etc. The end of the row contains options for inserting elements such as hyperlinks, images and horizontal lines.
The final row starts with a number of controls for creating and managing tables (most of the table controls are disabled until a table is created). Next are controls for cutting and pasting text along with a utility to assist in pasting formatted text from Microsoft Word. Rounding the Rich Text Editor out are options to enable/disable visual guides, view the underlying HTML source and viewing the editor in a full screen window. Finally, the ? icon provides information about the Rich Text Editor plugin itself.